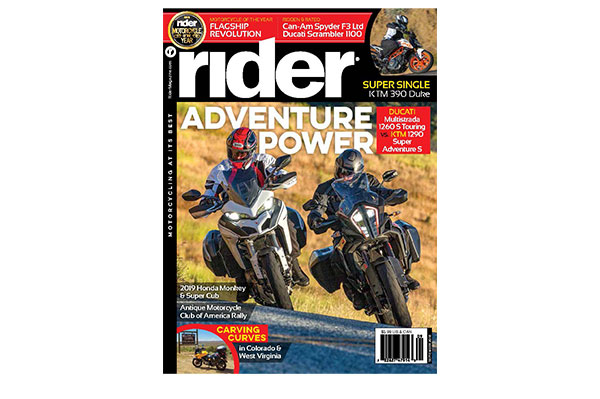 I have been riding motorcycles for over 40 years and and have seen incredible advances in technology. I recall the days of air-cooled carbureted motors and development of inline-4 configurations. I have seen the improvement of frame technology, suspension, ABS, traction control, slipper clutches, quick shifters, ride by wire, electronic controlled riding modes and suspension.
With all of these advances, new capabilities and options, it astounds me that something as basic as adjustable ergonomics has largely been ignored. Automobile ergonomic adjustment has been available for a long time. The concept of a one-size-fits-all car would be unthinkable. Why hasn't the motorcycle industry followed suit?
It would seem that given that human beings come in all sizes, it would be logical to offer some adjustability to fit riders of different sizes. It would make sense and be in the manufacturers' interest to broaden the appeal to different riders and significantly expand the potential customer base.
There are many bikes I considered buying but didn't because of this lack of adjustablity. I wonder how many sales have been lost based on the fact that a particular model just didn't fit. Presently, we have expensive and at times detrimental choices such as, changing suspension, seat heights, bar risers and different sole thicknesses of boots. I think adjustable ergonomics of handle bars, seat heights and pegs would be fairly simple. I am sure that this would be easily achievable.
I hope for the day my choices are not limited to a few bikes that might fit and I can buy the bike that I really want which can be adjusted to fit me.
Steve Parenteau, via email
I might be in the minority, but I have seen over the last few short years a huge trend in the design and look of new motorcycles coming into the marketplace. I certainly can't argue with the majority of the technological advances that has accelerated rapidly of recent years. Particular the areas of ABS, new tire compound formulas, etc.
But has anyone really looked at a new motorcycle and said, Wow that is a beautiful piece of Art? It seems every new machine that comes to the market comes out in Flat Black with little or no Chrome. Where did the beautiful lustrous colors and the magnificent shiny chrome disappear go to that made a motorcycle make a statement not only to the rider but anyone else that saw it?
When I look through any new motorcycle manufacturers lineup of models they don't seem to offer any models that even make an appearance statement or a Wow factor. Even the big H/D brand isn't offering much. (And they wonder way their sales continue to decline).
I'm certainly not saying there isn't a market for blacked out non chrome motorcycles, but as expensive as many models have risen in cost and it seems like the demographics that can afford or willing to lay down the expenditure for machines that cost easily 10,000 to 30,000 apiece mostly ridden for pleasure aren't being attracted to this newer trend. I know for one, I'm certainly not purchasing or even looking for something that isn't exquisite in beauty along with performance, safety, technology.
There certainly is more than just the ride to a motorcycle.
Don Stewart, Taylor Mill, Kentucky
In Clement Salvadori's "Watch Out for the Other Guy" column he mentions doing a cross country on route 10, but having to take side trips to maintain his sanity.  It reminded me of a few years ago when I decided to do a solo cross country.  I talked to several friends and fellow bikers and they all said "jump on route 10 and go."  Not wanting to go almost 3,000 miles on a super highway, accompanied by a bunch of eighteen wheelers, I pulled out a map of the US and discovered route 82.  Route 82 goes from Jacksonville, Florida to Alamogorda, New Mexico, is two lane, scenic, and there is almost no traffic.  The only time I used route 10 was from the Colorado River at the Arizona – California border to Palm Springs and it lived up to my expectations of being boring and busy.  My wife flew into Palm Springs and we rode the PCH from there to Seattle, Washington, where she flew home and I continued my trip.
Jim Rich, Jupiter, Florida
Just finished your "Power Tools" comparo  in the September issue.
Wouldn't the KTM be a lot lighter if they didn't use a "seat made of stone"?
Keep up the good work!
Scott Poley, via email
Enjoyed reading the article West Virginia's Country Roads by Mario Orsini in the September 2018 issue of Rider.  My son and I traveled many of those same roads (June 29 – July 02, 2018).  We were riding a 1999 Honda Gold Wing and a 2009 Kawasaki Concours 14.   About 12 miles west of Winchester, Virginia on route 50, we turned left on Carpers Pike (route 259) and traveled through Yellow Springs to Wardensville, West Virginia.  We take route 48 (Corridor H) to Moorefield then route 220 to Petersburg.  Portions of route 220 parallel the South Branch of the Potomac River.  Route 28 takes us to Seneca Rocks and a rest stop at Yokum's Vacationland.  We continue on route 28/33 to Judy Gap and route 28 to Bartow.  Route 28/92 takes us to Green Bank then route 66 to Cass, West Virginia our final destination.  While in the area, we took a side trip on route 92 to White Sulphur Springs.  Returning, we traveled the same roads back to Moorefield and stopped for the night.  The following day we returned on routes 48, 259 and 50 to Winchester, Virginia.  As Mario indicated this is a very scenic area to ride.
Dave Bohrer, Silver Spring, MD
Coincidence – I just rode a significant portion of Mr. Orsini's route last weekend and while he rode the new alignment of "Corridor H" between Wardensville and Moorefield, the old road Is still in use and is signed at both ends as "Old 55". This road runs along the valleys, beside streams and plays tag with the new alignment. For those of us who prefer 2 lane blacktop it's a much nicer ride. As a bonus, all of the traffic is using the new road.
Michael Jordan, Sterling, Virginia
Just got the September issue out of the mailbox and of course read your column first. As usual loved your column, but this one really struck home. Next year will be 50 years of riding for me and I've always had two rules, 1) Nobody can see me, 2) If the could they'd want to hit me. Number One is always true and makes riding much simpler. Number Two was proven to me when a guy looked me right in the eye from the left hand turn lane and turned right proving Number Two. Great column.
Dan Oates, Palm Desert, CA
I finally got around to reading "Triumph and The Taco".
I am impressed with Jenny Smith's writing.  She stands out as not merely being well spoken, but she also stands out because here articles are lacking spelling and grammatical errors.  In your world, she is a treasure, and a rarity.  And, incidentally, she is also an outstanding photographer.
Randy D.
As many motorcycle magazines have now cut back to quarterly publication. I've just finished reading my 9/18 Rider. I believe this edition has been the best work from the editorial staff. Keep up the great work. Thanks for providing me with a monthly edition that I enjoy reading.
JP Jones, Gallipolis, OH
How ironic to come home to Rider Magazine`s Esmeralda County,story by Mr.Salvadori.(Aug.2018) My wife and are are from Ontario,Canada and had just finished an amazing 8,000 mile tour of the USA.The Nevada area Clem writes about,we had recently been through.Even seeing the Brothel,he mentions.
We ended up in Mesquite Nevada,after a very long,hot ride on 95 south,from Bishop California.My `05 FLHTC was very noisy and did not sound good at all.I thought it might be the extreme heat and or something serious.(it had 130,000 miles on it).We booked a room (Best Western,great hotels) and had a much deserved rest and beer.
Unfortunately,the next day,"The Harley" still sounded bad.Real bad.But at least we were safe and not stranded out on the Interstate,being buzzard food. Hog Roadside (Any Time Towing ,I believe,thanks Seth!) trucked the bike to Zion Harley-Davidson in Washington ,UT. They took the bike in that afternoon and said they`d be on it first thing,the next day.A good Hotel and bar were next door. Perfect.
"The Harley" had crapped a bearing in the cam plate.Almost destroying the engine,if we had kept on riding.A few dollars later,Zion had the bike back up and running.Great people! We ended up staying another day,it was late in the afternoon,while they sorted things all out,and made sure all was well.
Now,while we sat in the pool ,enjoying adult beverages,I started thinking.If "The Harley" had not been repairable,what would we do? Many,many miles from home? It`s a trusted friend,we can`t leave it.Trailer? Truck it,ship it? What about us and our gear? In all the years of touring,the thought has crossed my mind,but I`ve never been so close to "What would I do" as that day.
"The Harley" was fixed and we continued on through Utah,Colorado,etc. and safely home.Thanks to everyone at Zion HD. But,if it had been different,has anyone ever had to get their disabled bike home? What did you do?
Tom Anguish.St.Thomas ,Ont.Canada.
Jenny I was glad to see a review of the Can Am.  It is my current ride, the RTS.  After 2 wheels for 62 years the Can Am was really different.  You may be wondering if age played a role in the move to the Can Am.  The answer is yes and no.  I really miss a 2 wheel motorcycle, but I ride mainly 2 up and 2 of us on the Goldwing was too heavy going slow and the BMW RT did not make the pinon rider happy.
The comment about the "darting" grabbed my interest.  I experienced that also and was told by the dealers that was how they handled.  I rode a number Can Am and they all felt the same.  Could not hold a line through a corner.  Darn right scary.  Some of the blogs were saying that you will get use to it.  No Way!  Having a back ground in motorcycle and auto repair I knew something was wrong.  Dealerships that service a wide variety of equipment seldom have an expert on one machine.  A couple of after market shops are saying the front wheel alignment is off.  The toe is the only alignment adjustment that can be made.  Without special equipment it is a difficult task to get correct.  The darting is very similar to riding a snowmobile with the skies out of alignment.   The Can Am is a lot like riding a snowmobile.  After having the front wheels laser aligned, the Can Am rails around corners and has more relaxed ride.  There are a lot of Can Ams out there, I was glad to see the review.
Joe Laconic, via email
Happy Birthday to you and your time with Rider Magazine.  You're doing what Larry would have wanted and you're doing it well.  I just finished the latest issue and wanted to add a couple tips to the mirror positioning article.
In hilly southern Ohio it's advantageous to position the mirrors as you said but also to position one low and one high.  This allows you to see vehicles behind you near and far as well as vehicles who may be above or below your rearward line of sight going up or down hill.
Second, something I tell people all the time;
"A mirror can only tell you no, it can never tell you yes.  Only a head check can tell you yes".
Keep up the good work,
"Nomadmax," via email
I really enjoyed reading "You Never Ride Alone" by Eric Trow in the August issue. My wife and I use an app on our phones to track where our teenagers are when they aren't home. One of the features of the app is it will show top speed for your trip. I have it turned off on my phone so nobody can track me. The main reason, I don't want my wife to know how fast I ride, as I have a tendency to ride fast and take more risks than I probably should. After reading Eric's column, it really made me think when he says "bring those who care about you on your next ride". Now, I still may not enable the app on my phone, but I will most certainly think about this on my rides from here on out, and ride more responsibly as if my wife or kids were on the pillion.
I've been a subscriber to Rider for a while, and enjoy when I see it in the mailbox. What you guys and gals are doing to create this great magazine, keep it up.
James Hooton, Highland, Illinois
ATG ATT, "All the gear, all the time." I've often read this mantra in Rider Magazine, and I've come to follow it. I have ridden more than 50 years without a serious incident. Then it happened.  In early June 2018, I was returning from a  50-mile morning ride through the beautiful Wildcat Hills and prairie grasslands of Western Nebraska. I was going about 60 mph when a pickup truck going quite a bit faster struck my bike from behind. Thankfully, I was able to keep the bike upright in the ditch beside the highway until I got it slowed to about 20 mph. Then the front wheel hit an obstruction, and I was slammed into the ground. Although I had broken ribs and other injuries, I'm recovering to ride another day.  One of the ambulance personnel was heard to say, "If he hadn't been wearing that gear, it would have been a different story." Thank you, Rider Magazine, for keeping ATG ATT as a constant reminder in your pages.
Dennis M. Gingrich, Gering, Nebraska
Just finished reading Mark's great piece on riding and camping off road. He shared about a young man he met in the middle of nowhere riding a pieced together KLR650 and encouraged us to follow him on Instagram. I did immediately and was amazed at the young man's courage to ride that bike anywhere, any distance. I like long trips on my bike but it's a 2015 Indian Chieftain. I must however disagree with Mark. Maybe it's my 65 years, but I'll take perfection any day to the uncertainty of a breakdown in the middle of nowhere.
Elver Mendenhall, Alta Loma, CA
Hi All at Rider, thanks for being a holdout in what riders really need in a magazine. Jenny Smith it was so good to meet you at MotoTalbott last week. Thanks for your good writing and encouraging young women in the sport. Our daughter loves her new Ninja 400 and it was your article that helped her make her choice.
Bruce Kochsmeier, Carson City, Nevada
I'm sure you have noticed that some of your competitors have adopted, for lack of a better description, an "upscale" look:  black-and-white and soft-focus photos, a lot of white space, trendy fonts.  I keep looking for the Rolex ads and the coupons for Tiffany's.  The only problem is that they do not look like motorcycle magazines.  They induce mild nausea.
Please don't go there.  A motorcycle magazine should look like one, not a catalog from MOMA.
Mike Christie, Phoenixville, Pennsylvania
People come in all sizes, skill levels, wants, and needs. I own 34 bikes, from a 650 Versus to an H-D XR1000 roadrace bike, to KTM520EXC and 450EXC, Honda XR200, Penton 125, CRF230F, etc. etc. H-D is absolutely finally going in the right directions here. The Pan American looks too big and heavy? Buy a Royal Enfield Himalayan (my latest new bike). Light, handles great, and what a fun adventure bike both on the trail as well as the backroads and even highways. My KTM520 will eat it up on the trails. So what, on the Himalayan (or my WR250R or my DR650) I can still ride in comfort and have a great time visiting local points of interest, out of the way cafes, and enjoy the scenery. Their move to electrics is also well timed. I was part of the H-D engineering team that started looking at electric back in 2005. I'm retired from H-D now but the Live Wire will be a culmination of what I and others started and have refined. I'm especially excited about the comments about smaller electrics, especially knowing of their new partnership with Alta. Great things are happening at H-D as we speak. The naysayers about H-D will be proven very wrong over the coming years. Me, hopefully H-D will come out with something to compete with the KTM690 enduro or even a 500 version. My stable will then go to 35.
Alexander Bub, from ridermagazine.com
Source: RiderMagazine.com