Adventure touring boots have a serious job to do. In addition to keeping your feet dry and protected from rocks and impacts, ADV boots should provide plenty of ankle support and have a sturdy sole for long periods of standing on footpegs. The problem is that all of this often results in a boot that is stiff, heavy, uncomfortable and hard to put on and take off, with lots of straps, buckles and hook-and-loop flaps.
Rev'It's new Discovery Outdry boots take a different approach to ADV boot design, by incorporating the stability and safety of off-road boots with the user-friendliness and clean, lightweight construction of a touring boot. A key element is the lightweight Boa lacing system, which replaces shoestrings, buckles and straps with stainless-steel wire laces and low-friction lace guides that snug up the boot with the turn of a dial. Pull the dial to release the laces and the boot slips easily on and off; push the dial in to engage the locking adjustment system and a few turns result in a perfect fit every time.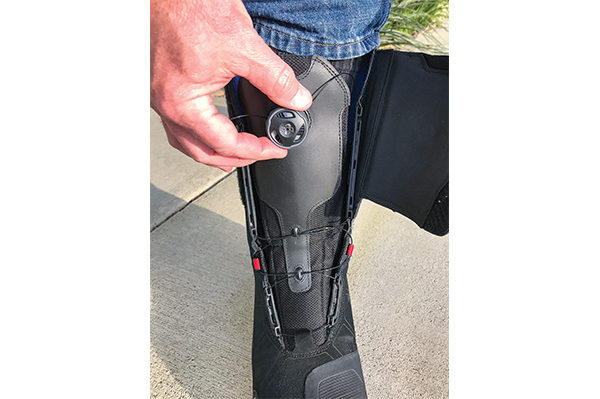 Boa technology was invented for snowboarding boots in the 1990s and is now used by hundreds of footwear companies worldwide. The steel laces only need to withstand five pounds of pressure to work, but are rated to 10 times that amount, and Boa guarantees its dials and laces for the lifetime of the product in which they're integrated.
Beautifully constructed of suede and full-grain leather and 500D Cordura nylon with a rubber abrasion edge around the sides and toe, the boots are laminated with an outer layer of Outdry, a 100-percent waterproof membrane that sheds water before it soaks in, keeping your feet dry and warm. My pair passed the soak test handily, but I haven't yet been able to rain test them.
Injected ankle cups and thermoformed plastic armor in the heel, toe, shin and a hook-and-loop flap that covers the Boa dial provide comfortable protection. A versatile Vibram Apex sole with a shock-absorbing EVA midsole and anatomic footbed is comfortable and grippy for walking or hiking and provides plenty of support for standing on footpegs. Reflective panels in back enhance conspicuity, and large loops on top aid in pulling the boots on.
Rev'It Discovery Outdry boots come in Euro sizes 38-47 (U.S. 6-13) and have a pricy MSRP of $499.99, but as a rider who dislikes time-consuming complication and clutter in my apparel, I couldn't be happier with them. Fit and comfort are exceptional, they break-in quickly and are light, fast and easy to put on and take off, yet the level of protection they provide is substantial enough for pretty gnarly ADV riding. While they won't quite substitute for motocross or enduro boots, short of that you'd be hard-pressed to find as much comfort and protection in one boot. Or even two.  
For more information, see your dealer or visit revitusa.com.
Source: RiderMagazine.com